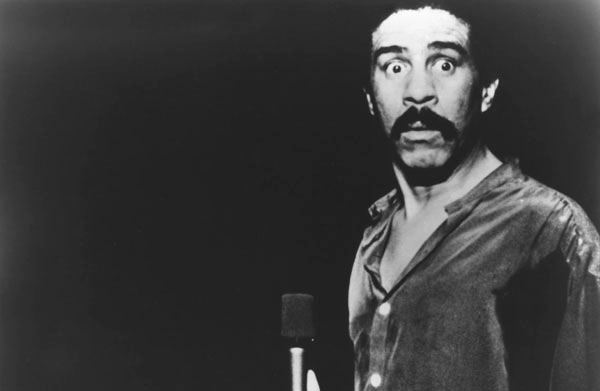 Richard Pryor
is one of the funniest comedians of all time. So we're going to give you some of his funniest and most poignant quotes and jokes of all time. Some of these were when he was looking back on his life. Others were some from his act. This is a hodge podge of Richard Pryor quotes being honest, hilarious and sometimes both.
[Quote]
18. Marriage is really tough because you have to deal with feelings... and lawyers.
[/Quote]
[Quote]
17. I believe the ability to think is blessed. If you can think about a situation, you can deal with it. The big struggle is to keep your head clear enough to think.
[/Quote]
[Quote]
16. It seemed fair to kill my car to me, right, 'cause my wife was going to leave my ass. I say, "Not in this mother****er you ain't. Uh-uh. If you leave me you be drivin' them Hush Puppies you got on. 'Cause I'm goin' kill this mother****er here."
[/Quote]
[Quote]
15. I'm not addicted to cocaine. I just like the way it smells.
[/Quote]
[Quote]
14. I'd like to make you laugh for about ten minutes — though I'm gonna be on for an hour. Keep clicking to check out more Richard Pryor quotes.
[/Quote]
[Quote]
13. When I was in Africa, this voice came to me and said, "Richard, what do you see?" I said, "I see all types of people." The voice said, "But do you see any ni**ers?" I said, "No." It said, "Do you know why? 'Cause there aren't any."
[/Quote]
[Quote]
12. I went to penitentiary one time, not me personally, but me and Gene went there for a movie.Arizona State Penitentiary, population 90 percent black people. But there are no black people in Arizona. They have to bus motherf***ers in!
[/Quote]
[Quote]
11. I just don't want to die alone, that's all. That's not too much to ask for, is it It would be nice to have someone care about me, for who I am, not about my wallet.
[/Quote]
[Quote]
10. I'm for human lib, the liberation of all people, not just black people or female people or gay people.
[/Quote]
[Quote]
9. I remember white dudes used to come down to the whorehouse. "Do you have any girls who cover you with ice cream?... And little boys to lick it off?" He was the mayor.
[/Quote]
[Quote]
8. I know that if I wasn't scared, something's wrong, because the thrill is what's scary.
[/Quote]
[Quote]
7. You work your butt off and somebody says you can't have your record played because it offends them. Tyrants are made of such stuff.
[/Quote]
[Quote]
6. I think about being married again, having a home and a wife. No one can ever be married too many times, and maybe if I keep trying I'll get it right one day.
[/Quote]
[Quote]
5. Booty is just a ghetto expression, and I'm just a booty star.
[/Quote]
[Quote]
4. Hawaii is the best form of comfort for me. When I die, I want to be cremated, and I want half my ashes spread in the Pacific around the island, the rest on the property.
[/Quote]
[Quote]
3. I believe in the institution of marriage, and I intend to keep trying until I get it right.
[/Quote]
[Quote]
2. I went to the White House, met the president. We in trouble.
[/Quote]
[Quote]
1. Why me? Ten million mother****ers freebasing, and I'm the one who blows up!
[/Quote]