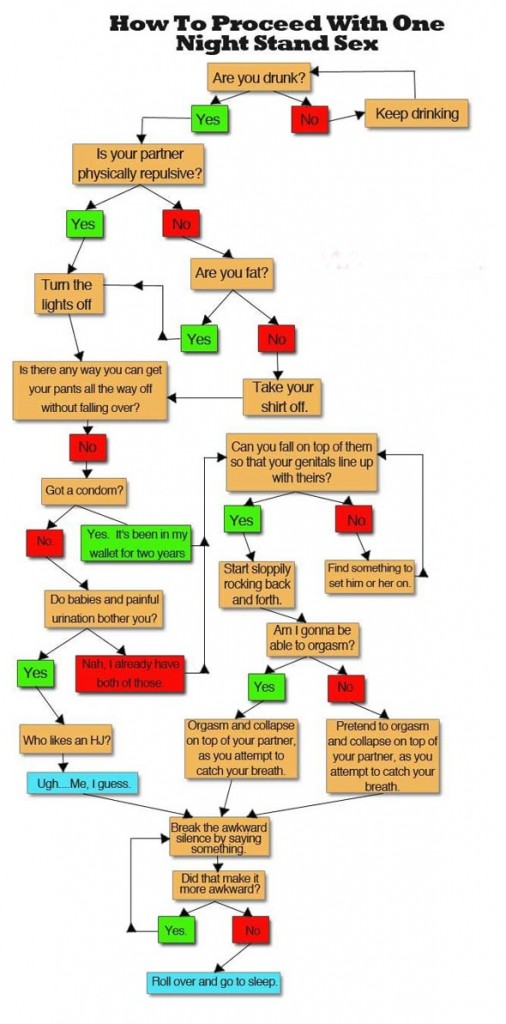 This helpful flowchart will help you decide how to go ahead with that one night stand.
Now that it's the holiday season, chances are you've got a few holiday parties to drink way too much at. And if you're single, that means that a one night stand isn't that hard to imagine. Everybody makes mistakes around the holidays, and a one night stand is certainly no exception.
Sometimes you just need a flowchart to help you decide if you really should have that one night stand, or if you do have one what you should actually do during it.
To start off, the handy flowchart asks you a series of questions. Are you drunk? Is your partner physically repulsive? Do babies and painful urination bother you? Are you able to have an orgasm? And finally it suggests (and offers a couple options) on how to break the awkward silence.
If you're considering having a one night stand this holiday season, we highly suggest you use this flowchart first, and then share with all of your single friends before they go and make what can be a weird experience even weirder. (We don't actually even know if that's possible, however).