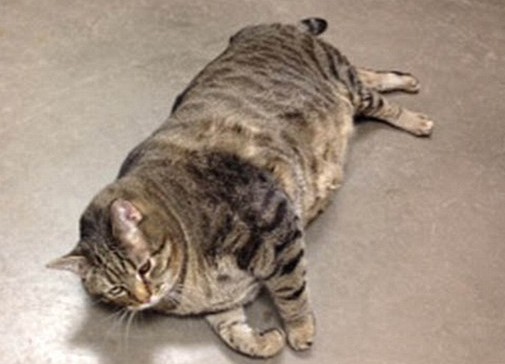 Meet Meatball, the fattest cat in the world.
Even though it's sad to see a cat this big, it's also slightly funny because he is just SO LARGE. The good news is that world's fattest cat is now on a strict diet, so we can expect him to not only get healthier but we're hoping live an even longer life.
So how did Meatball the fattest cat in the world come to be? Well, sadly his owners turned him into the Maricopa County Animal Care and Control in Phoenix, Arizona after they were unable to care for him anymore. The animal care center immediately began to notice that his previous owners MIGHT have been feeding him human food instead of cat food, as Meatball really liked applesauce (something,
The Daily Mail says
, that typically goes with a roast). 'Cat food isn't typically going to make a cat this large," Melissa Gable from the animal care center told The Daily Mail. 
Gable said Meatball is the heaviest cat she's seen, hence giving him the unofficial title of world's fattest cat, since no other cat owner has come forward to claim the title. Even thought Meatball is big, Gable also said he is extremely friendly.
"He is very sweet natured though, and when people come in to see him he will roll over onto his back and let them rub his belly."